Sage Enterprise Management (X3)
Sage Enterprise Management (Sage X3) revives midsize companies' growth and profitability with fast, simple, flexible ERP software.
Drive efficiency across financial and operational processes and give all employees the insight they need, when they need it. Accessible online and on mobile devices, Sage Enterprise Management (Sage X3) turns your business into a more responsive organization, locally and globally.
Year on year Sage has recognized us as preferred Sage EM (X3) implementation partner and awarded RFR as the best implementation partner in Middle East.
Rapid Implementation cycle without compromising the quality
In-House certified Functional & Technical resources
Over 40, X3 Project implementations
RFR owned Add-ons for X3 offerings

Adopt a faster, simpler, more flexible business management solution
Sage X3 takes the complexity out of running your business. It simplifies every part of your operation, leaving you lean and ready for whatever comes next, wherever you are in the world. With Enterprise Management, you are choosing the next generation business management solution for your enterprise to grow faster and run an agile organization.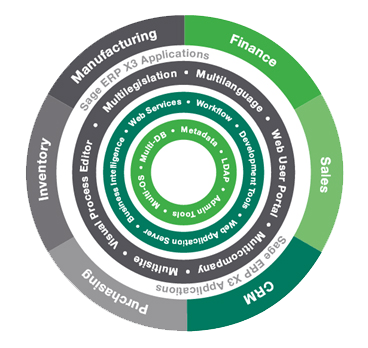 Smooth implementation in weeks
Well experienced Functional and Technical resources
Expertise on 3rd part modules
Wider range of industry experience
FOOD & BEVERAGE
As a food and beverage processor or distributor, your company tackles the challenges of managing industry-specific requirements and legal mandates.
More…
CONSTRUCTION
Next generation of business management solutions for the Construction sector. It's become clear that smart companies need to adopt new technology
More…
CHEMICALS
Chemical manufacturers are under pressure to maintain competitiveness while complying with challenges, eg: government regulations, global competition, and pricing.
More…
MANUFACTURING
Sage X3 for Manufacturing is ideal for manufacturers, especially those operating in complex sectors such as high tech, industrial equipment, medical devices and metal fabrication manufacturing.

More…
WHOLESALE & DISTRIBUTION
As a distribution company, it's important for you to source products and work with new suppliers quickly by seamlessly integrating them into your supply chain. Gain a complete, real time overview of your business
More…
PROCESS MANUFACTURING
Improve efficiency, drive productivity and promote greater compliance. It makes it easier to accurately manage changing regulations and customer demands along with reducing manufacturing costs.
More…
SERVICE
Sage X3 for Service helps you simplify the management of your service activities and keep the operational, sales and financial elements of your customers' projects under control.
More…